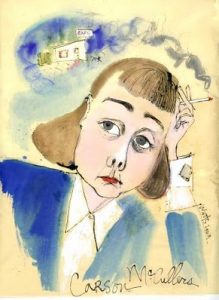 Next month (on September 27th) we will begin a tour through Southern Gothic literature (1930s – 1960s). We are starting with the little known novella, The Member of the Wedding, by Carson McCullers. I have always enjoyed her work more than O'Connor's, but McCullers has been overshadowed by the popularity of Flannery O 'Connor.
This book is a lyrical story, about growing up in the South–and about seeking meaning and belonging in life. The setting is a small Georgia town in the sweltering month of August!  Those of you who have been enduring these days in the South will appreciate the way the heat is practically a character in the novel!
Read more about our new pursuit of Southern Gothic literature here.