The April Poetry Celebration is over now, but we are not done relishing poetry! I am thrilled to be taking Grace's Poetry Matters workshop with others. I look forward to dwelling on the words of great poets and learning to understand them better.
Just now I'm sitting on the deck listening to the warbling of a variety of birds that live in our trees here. Its a glorious morning here in Mint Hill. There are flowers everywhere and I am feeling so blessed!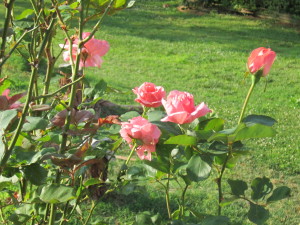 The roses are blooming again. Three years ago, the first spring after we bought this great place, which had a yard like a jungle (everything had been let go), this rose bush thrust its way up into the air through an overgrown bush next to the deck. We had no idea it was there! I looked out of the kitchen window and saw several pink roses about to bud, and now each spring it take us by surprise, since we still haven't gotten around to somehow digging up the bush that hides it away.
This makes me think of the riches of God's grace that are hidden away under the mass of busyness that keeps us from spending time enjoying nature and friends. And spending time enjoying poetry and good books. Let them burst through!!
It also reminds me of the following lines in Burnt Norton (I love them, although I am still trying to understand Eliot's poetry!)
…
Footfalls echo in the memory
Down the passage which we did not take
Towards the door we never opened
Into the rose-garden. My words echo
Thus, in your mind.
                              But to what purpose
Disturbing the dust on a bowl of rose-leaves
I do not know.
                        Other echoes
Inhabit the garden. Shall we follow?
Quick, said the bird, find them, find them, …
http://www.davidgorman.com/4Quartets/1-norton.htm