---
The True Meaning of the Trivium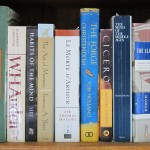 Text:  Beauty in the Word by Stratford Caldecott
Dates and Time (online): Tuesday Mornings, 11:00 am ET  (June 13 -25)
Charlotte Area Meetings (in the flesh!): 8:00 am (the last Saturday of each month)<–a link to more details coming soon!
Moderator: Beth Harvey et al
Why is the Trivium an important concept in education? And, moreover, what is it? Just read this book to discover a world of thought! We will be studying the original concept of the trivium, as the three aspects of the art of communication. As we read some seminal works on this, I hope that you will begin to understand the power of a deep understanding of language–and the way it is essential to human fellowship and love, and therefore to education. There will be many other books referenced in this series of discussions; a syllabus and list of them will be available soon. Join us and explore the original idea of the trivium.
---
 Others are being planned for 2017.  To see more…
---