The "Affordable Courses"
The seminar courses provide the best of both worlds: the flexibility of an asynchronous course with the help and fun of a weekly live class session! Plus, they are truly affordable online courses.
Here's one example….
Introductory Latin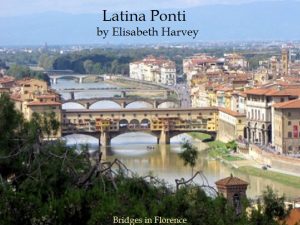 Live Session: Mondays, 1:30 – 2:20 p.m. EST  (Sept. 11 – May 9)
Text: Latina Ponti. Text-Workbook. Elisabeth W. Harvey, 2012 (Paperback and e-book versions available at Lulu.com).
Tutor: Mrs. Elisabeth Harvey
Cost: $290/ year (payable in two installments of $145)
The 2nd session of the week is pre-recorded!  Click here to sample some of these.
This Latin course is designed to prepare the younger student to thrive in an intensive high school Latin course, one such as Latin For the New Millenium or Wheelock's Latin. The week's study will consist of two sessions per week: one pre-recorded session that will introduce the concept of the week and contain Practicum, and one live session for discussion and more practice.
Each week the student will also receive access to a pre-recorded whiteboard lecture on the current concepts. It may be viewed at any time and will be 20-30 minutes long. During the pre-recorded session the student should have their book and notebook paper ready; there will be opportunities for them to pause the lecture at certain spots, practice what is being taught, and then start the lecture again to see whether or not they are understanding the concept. Each day between sessions they will have a short translation exercise to work, and when we come together in the Live Sessions, they will be able to ask questions and demonstrate what they are learning.
All class sessions are recorded and available to view later, both pre-recorded and live sessions. The recording of the live session will be available for at least two weeks; it can even be made available a little longer than this, if requested.
Find out more at The Harvey Center or: