This is an online book club for family members of the Harvey Center!  If you have an interest in studying the classics with others, please join us!  We meet once a month in a live session with video and audio (wiziq or skype)!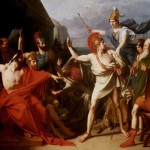 Last year we were reading The Iliad and The Odyssey. For those notes click here: Homer. The Latin term 'conversatio' can mean anything from a "way of life" to "intimate conversation." When you examine its roots it literally refers to a "turning together."  So we wish to turn ideas in literature around together, examining it from various angles–to help each other cultivate a thoughtful way of life to the glory of God. We are literature amateurs (from the Latin: amators), meaning we love to read a book more that we love to analyse it.  It's still fun to do some literary analysis -we just don't want that to take over!  We get together online to simply enjoy literature together. We like to point out passages that have stirred us and find out what the others think the main themes are, etc. That's about it.
Click below for the
Reading Schedule: See the calendar below for the dates and times of our online sessions.
Recordings of these discussions are available here for the members: Recorded Conversatios.
Our Tentative Plan in 2016 To Hit More Highlights of Ancient Literature:
February – March 2016   The Oresteia by Aeschylus
April – June  The Aeneid by Vergil (trans. Fagles)
Summer Plutarch's Lives
Later  Ovid's Metamorphoses